Intel And AMD Processor Comparison - Which is The Best Processor For Your PC Intel And AMD Processor Comparison - Which is The Best Processor For Your PC
Intel And AMD Processor Comparison
Intel Corporation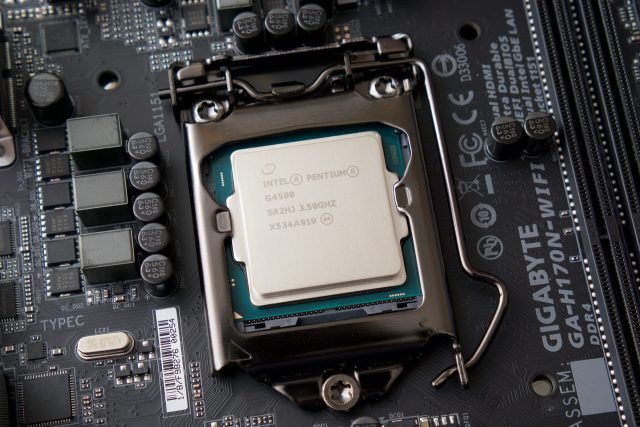 Intel Corporation
(Integrated Electronics Corporation) is a microprocessor company that was set up in the 1960s. Different types of processors made by Intel were used in most computers.
Their most famous older products are the 386, 486, and Pentium models. Many people use Core 2 processor in their computer - it says "Intel Inside."
Intel makes many different products and has switched to dual-core, 64-bit processors in 2006. The first Pentium chips were released on March 22, 1993.
Intel Corporation is traded on the NASDAQ under the ticker INTC and has been a component of the Dow Jones Industrial Average since 1999.
From 1993 to today
Pentium
Atom
Celeron
Intel Core
Intel Core 2
Intel Core i5
Intel Core i7
Intel Core i9
Pros - Advantages of Intel CPU
Compatibility: Intel's dominant market position means that many operating systems and application developers design their products with Intel chips in mind. If application designers want to design a product that is both impressive yet operates smoothly on the average computer, their best bet is taking the specifications of Intel's upcoming processor into account. Because a greater number and wider range of motherboards operate on Intel chips, it's also easier to find compatible parts for your computer.
Best known for power-saving performance.
Less prone to heating.
Performs great when it comes about single-core performance.
Heat Generation: While AMD and Intel regularly trade places depending on what performance benchmark you're using, Intel CPUs do have a reputation for generating less heat, which is in part thanks to lower wattage requirements, like their netbook parts. In a compact environment like a mini-computer, Intel may be a better choice.
Cons -Disa

dvantages of Intel CPU
Falls behind AMD when it's about multi-core performance.
Intel Processors are expensive as everyone knows.
Integrated graphics that comes with the processor won't let you play latest high-end games smoothly in high & ultra graphic settings that most of us wanna play. Even in medium settings, they'll lag somewhere.
Overclocking is not so easy.
Now, Intel's one & only Rival alive, that is AMD (Advanced Micro Devices)
Advanced Micro Devices (AMD)
Advanced Micro Devices (AMD in short) is a large American company from
Sunnyvale
, California that makes computer hardware. It makes many different computer parts, but it is most famous for its central processing units, (or CPUs).
Another important product is the motherboard chipsets. It started as a company that made products for Intel, another large hardware company. Today, AMD's current line of CPUs is known as Ryzen.
Ryzen CPUs have between 2 and 32 cores and can achieve speeds above 4 Gigahertz (or GHz). In 2006 they bought the company, ATI Technologies.
Pros

- A

dvan

tages of AMD Advanced Micro Devices
The Price to Performance is always higher than Intel, So you get more for your money.
AMD usually has a longer support term for their Sockets so you can usually upgrade after 2–3 years just with a processor for better performance.
The motherboards for AMD platform are usually priced lower so you save some money there as well.
The money you save on Processor and motherboard can be put into buying a Graphics card so you can get those FPS more in games.
Lightning-fast multi-core performance.
It handles heavy games as the lightest one
VALUE FOR MONEY. (Hope you understood why I've typed in Capitals. Yes, really there.)
You really ain't be needing a separate dedicated graphics card to play latest high-end games such as Battlefield 4, Far Cry 3, Assasins Creed: Black Flag, Call of Duty Modern Warfare Series & Black Ops Series. All these games that I've mentioned above will let you play at least @ Medium graphic settings without lag.
Overclocking becomes easy due to AMD's Turbo Boost Technology.
Cons - Disadvantages of AMD Advanced Micro Devices
AMD CPU's are behind that those of Intel's as Intel is best in single-core performance.
AMD CPU's are prone to excessive heating. Yeah, they are, but cooling types of equipment for your desktop or laptop CPU aren't that much expensive. So, this shouldn't be taken as a con.
More power-hungry. 1*1/2 times power is consumed as compared to Intel's core I series.
Fast Heat: AMD more often expels heat. That's because AMD does not use the heatsink as its main cooling component. Some AMD still uses the fan/fan as a cooling component. Some people have gone to ice cooler to reduce the noise that is not pleasant to hear.
We Hope You Love The Articles- "Intel And AMD Processor Comparison - Which is The Best Processor For Your PC" Do Share On Facebook And Whatsapp. Subscribe Us For More Awesome Content.