Types of Video Card for PC - Types of Display Card In Computer Types of Video Card for PC - Types of Display Card In Computer
The most common connection systems between the video card and the computer display are - Types of Video Card for PC
ISA display card
Display card based on
IBM MDA
standard
The ISA graphics card is the oldest graphics card that was previously supported by the most commonly used VGA monitors.
VESA display card
VESA is a "
V
IDEO
E
Lectronic
S
tandards
A
ssociation" by the number of computer chip maker co-founded in 1989.
At the end of 1994, VESA published the "VESA Local Bus" standard for 64-bit architecture. Most of the 80486 personal computers use this standard display card.
PCI display card
PCI ( Peripheral Component Interconnect ) graphics cards, which are commonly used in older or thinner computers, must rely on the PCI interface card for removing the AGP standard slot. It is currently known to be used by most of the early days of 486 to Pentium II.
However, until the display chip could not directly support AGP, some manufacturers continued to manufacture AGP-to-PCI-based display cards.
Currently known as the latest PCI interface graphics card,
GeForce GT 610 PCI
(SPARKLE) model GRSP610L1024LC and ATI HD 4350 PCI (HIS system) and HIS HD 5450 PCI (HIS system) HIS 5450 Silence 512MB DDR3 PCI DVI/HDMI /VGA part number H545H512P.
AGP display card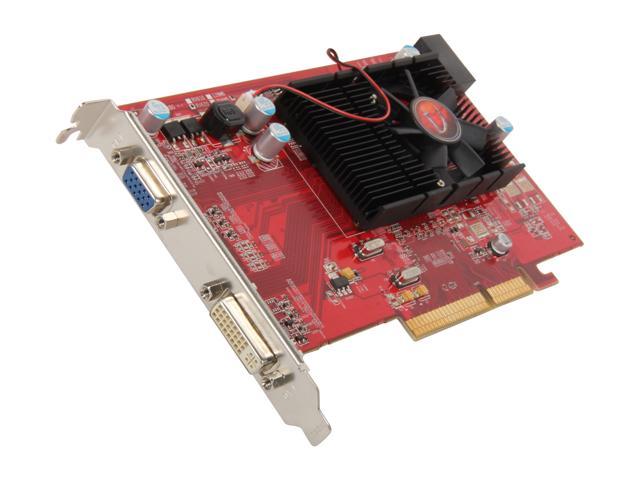 The AGP (
Accelerated Graphics PORT
) is an Intel (Intel) 32 yuan Company developed in 1996 bus interface, for enhancing display performance of the computer system. There are AGP 1X, AGP 2X, AGP 4X and finally AGP 8X with bandwidths of 266MB/s, 533MB/s, 1066MB/s, and 2133 MB/s, respectively.
Among them, AGP 4X has been incompatible with the previous voltage. Among them,
3DLABS
' "Wildcat4 7210" ​​is the strongest professional-grade AGP graphics accelerator card, and ATI 's Radeon HD 4670 and HD3850 are the most powerful consumer-grade AGP graphics accelerator cards of the year (2007).
PCI Express display card
PCI Express (also known as PCI-E) is the latest graphics interface for display cards. It replaces AGP graphics cards. In the face of continuous advances in 3D display technology, AGP's bandwidth is not enough to handle huge data operations.
The highest performing PCI-Express graphics cards are nVidia 's "
NVIDIA Titan V
" and AMD 's "
Radeon Pro Duo
(Fiji)". Currently, graphics cards produced after 2007 can support dual display card technology (NVIDIA's SLI and nvlink and
AMD's CrossFire
).
External PCI Express display card
Connecting to an externa
l PCI Express graphics card
with a USB or Thunderbolt high-frequency wide cable requires an
independent power supply.
Read Also
What is a Motherboard in Computer? - Components of the Motherboard
What is Random Access Memory? Types of Random Access Memory
What is Computer Mouse? History of Computer Mouse
We Hope You Love The Articles- "Types of Video Card for PC - Types of Display Card In Computer" Do Share On Facebook And Whatsapp. Subscribe Us For More Awesome Content.