What is Instagram App? Originally Founder of Instagram Popularity of Instagram What is Instagram App? Originally Founder of Instagram Popularity of Instagram
What is Instagram App?
Instagram
is a free mobile application for photo sharing and a social network launched in October 2010.
The application originally by
Kevin Systrom
and
Mike Krieger
. The name is a combination of "instant" and "telegram" and the application is completely free for both Android and iPhone phones.
The program allows the user to take pictures, post a filter and then share the image in their feed on Instagram and also to other social media such as Facebook, Twitter, Foursquare, Tumblr, Flickr, and Posterous.
To the image, the user can write text and mark it with hashtags and geographical location, to make the image searchable for other users.
The application was initially only available for the
IOS operating system
in the iPhone, Ipad and iPod Touch products, but a version for Android was released on April 3, 2012.
Already the first week after launch, the Android version was downloaded over a million times.
April 9, 2012, it was announced that Facebook bought Instagram for 1 billion US dollars.
2013 added the possibility of 15-second video footage. 2016 also the opportunity to upload 60-second videos.
On August 2, 2016, a new feature was added to Instagram called stories. This means that users can upload images that automatically disappear 24 hours after publication.
If several images and movies are published in a row, they are displayed in the form of a picture/movie game in chronological order.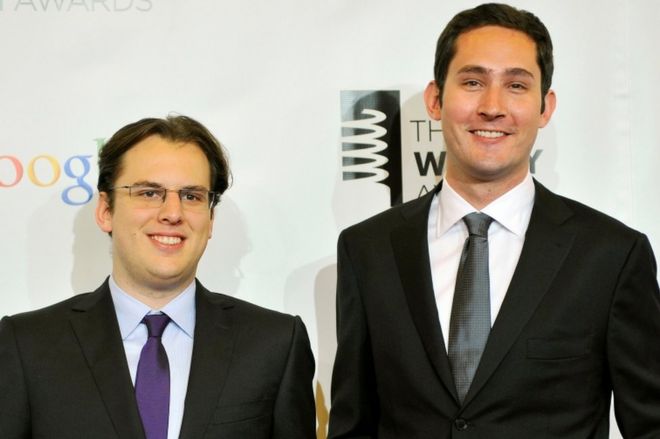 On September 24, 2018, the founders Kevin Systrom and Mike Krieger announced their resignation.
Users & Popularity of Instagram
Following the release in October, Instagram had one million registered users in December 2010.
In June 2011, it announced that it had 5 million users, which increased to 10 million in September. This growth continued to 30 million users in April 2012, 80 million in July 2012,
100 million in February 2013, 130 million in June 2013, 150 million in September 2013, 300 million in December 2014, 400 million in September 2015,
500 million in June 2016, 600 million in December 2016 700 million in April 2017, and 800 million in September 2017.
In October 2016, Instagram Stories reached 100 million active users, two months after launch.
This increased to 150 million in January 2017, 200 million in April, surpassing
Snapchat's user
growth, and 250 million active users in June 2017.
In April 2017, Instagram Direct had 375 million monthly users.
In June 2011, Instagram passed 100 million photos uploaded to the service.
This grew to 150 million in August 2011, and by June 2013, there were over 16 billion photos on the service.
In October 2015, there existed over 40 billion photos.
On August 9, 2012, English musician Ellie Goulding released a new music video for her song "Anything Could Happen." The video only contained fan-submitted Instagram photographs that used various filters to represent words or lyrics from the song, and over 1,200 different photographs were submitted.
Instagram was listed among Time's "50 Best Android Applications for 2013" list.
Read Also
What is the TikTok App? The Whole History of TikTok App - TikTok India Case
What is Facebook? How many users does Facebook have? Facebook India
What is Quora Website- How To sign up for Quora - Is Quora social media?
We Hope You Love The Articles- "What is Instagram App? Originally Founder of Instagram Popularity of Instagram" Do Share On Facebook And Whatsapp. Subscribe Us For More Awesome Content.