What is Malware in Computer? Spyware, Adware, Scumware What is Malware in Computer? Spyware, Adware, Scumware
What is Malware in Computer? Spyware, Adware, Scumware
Malware
is a term that encompasses a whole bunch of computer problems you may encounter, including adware, scumware, and spyware. It is short for 'malicious software' and also encompasses viruses, Trojans and worms. I'd like to look at adware, scumware, and spyware - all these types of malware have similarities, but also a different function that's worth understanding in order to protect ourselves and valuable equipment and files. There is a lot of overlap in their function however, so often the names are often used interchangeably. Nothing that counts as malware should be considered harmless, and you should always make an effort to remove it from your machine.
Spyware
This is hidden and devious software that sits somewhere on your computer and spies on your activities. At its most benign it watches your browsing and buying habits and sends they information away to a third party. This is an invasion of privacy, and most people object t it. At the more extreme end, spyware is capable of more sinister work.
It can, for example, log any information you enter online including your credit card details and vital passwords. It doesn't matter if you use a secure website because the spyware sits inside your own pc so it can 'see' and record whatever you see.
Adware
Again, the name gives it away - adware is designed to make you suffer all sorts of advertisements. If its primary purpose is to sell, it is very similar to spyware at it's the extreme end. It's pretty much indistinguishable from spyware in fact when it is put to work to gather the information on your keystrokes and send them away to be used by a third party. Adware and spyware are often delivered along with other programs that actually want and hence is difficult to detect.
[next]
Scumware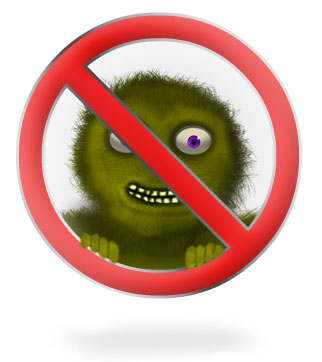 This
vitriolic name
is usually reserved for software that has the primary aim of stealing. This kind of program may, for example, hijack websites, placing advertising on them without the webmaster's permission. Sometimes it steals the profits the website's owner should be making on affiliate programs by inserting the scumware designers affiliate code in place of the proper one. This last thing is very obviously theft, but then so is taking over someone's website.
Even at its most innocuous, for instance when it's presenting unwanted advertising, malware should be resisted. For one thing, it's impossible to easily tell the relatively harmless from the downright evil. But in any case, who wants their computer or the internet clogged up with totally unwanted junk? By its very nature malware is hidden and difficult to sniff out - usually, some specialist software is needed to help out. If you're not sure if you have malware on your pc, it's a good idea to assume you have. There's a fair chance that removal is needed for everyone who has ever downloaded anything from the internet!
There are plenty of spyware and
adware removal tools
on the market. They tend to offer simple menus from which you can choose to scan individual elements of your computer, such as the registry, the cookies or the currently running programs. As with all software that searches for the latest developments by malicious programs (like antivirus software for example), the main thing you're looking for is a company that keeps its development up to date.
Ask yourself '
how new are their internet updates?
' And because Malware removal utilities rely upon keeping up to date, you're looking for software that makes it easy to have the updated files downloaded from the internet to your pc easily or even automatically.
Read Also
How Does Antivirus Software Work? How To Buy Perfect Antivirus For Computer
What is a Freeware Software? History of Freeware Software
What was the first computer virus? First Computer Virus in the World
We Hope You Love The Articles- "What is Malware in Computer? Spyware, Adware, Scumware" Do Share On Facebook And Whatsapp. Subscribe Us For More Awesome Content.