What is Online Chat? History of Online Chat System & Chatiquette What is Online Chat? History of Online Chat System & Chatiquette
What is Online Chat?
Online chat may refer to any kind of communication over the Internet that offers a real-time transmission of text messages from sender to receiver. Chat messages are generally short in order to enable other participants to respond quickly. Thereby, a feeling similar to a spoken conversation is created, which distinguishes chatting from other text-based online communication forms such as Internet forums and email.
Online chat
may address point-to-point communications as well as multicast communications from one sender to many receivers and voice and video chat, or maybe a feature of a web conferencing service.
Online chat in a less stringent definition may be primarily any direct text-based or video-based (webcams), one-on-one chat or one-to-many group chat (formally also known as s
ynchronous conferencing
), using tools such as instant messengers, Internet Relay Chat (IRC), talkers and possibly MUDs.
The expression online chat comes from the word chat which means "informal conversation". Online chat includes web-based applications that allow communication – often directly addressed, but anonymous between users in a multi-user environment. Web conferencing is a more specific online service, that is often sold as a service, hosted on a web server controlled by the vendor.
History of Online Chat System
The first online chat system was called Talkomatic, created by Doug Brown and David R. Woolley in 1973 on the PLATO System at the University of Illinois. It offered several channels, each of which could accommodate up to five people, with messages appearing on all users' screens character-by-character as they were typed.
Talkomatic
was very popular among PLATO users into the mid-1980s. In 2014, Brown and Woolley released a web-based version of Talkomatic.
The first online system to use the actual command "chat" was created for The Source in 1979 by Tom Walker and
Fritz Thane of Dialcom
, Inc.
The first transatlantic Internet chat took place between Oulu, Finland, and Corvallis, Oregon in February of 1989.
The first dedicated online chat service that was widely available to the public was the CompuServe CB Simulator in 1980, created by
CompuServe executive Alexander
"Sandy" Trevor in Columbus, Ohio. Ancestors include network chat software such as UNIX "talk" used in the 1970s.
Chatiquette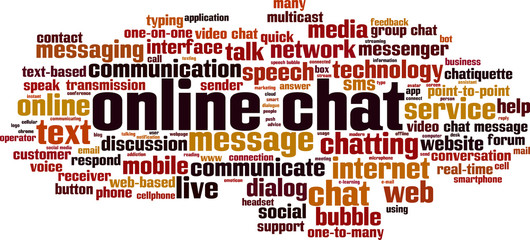 The term chatiquette (chat etiquette) is a variation of netiquette (Internet etiquette) and describes basic rules of online communication. These conventions or guidelines have been created to avoid misunderstandings and to simplify the communication between users. Chatiquette varies from community to community and generally describes basic courtesy.
As an example, it is considered rude to write only in upper case, because it appears as if the user is shouting. The word "chatiquette" has been used in connection with various chat systems (e.g. I
nternet Relay Chat
) since 1995.
Chatrooms can produce a strong sense of online identity leading to an impression of subculture.
Chats are valuable sources of various types of information, the automatic processing of which is the object of chat/text mining technologies.
We Hope You Love The Articles- "What is Online Chat? History of Online Chat System & Chatiquette" Do Share On Facebook And Whatsapp. Subscribe Us For More Awesome Content.